Beautiful Permanent Makeup Services in
Atlanta, GA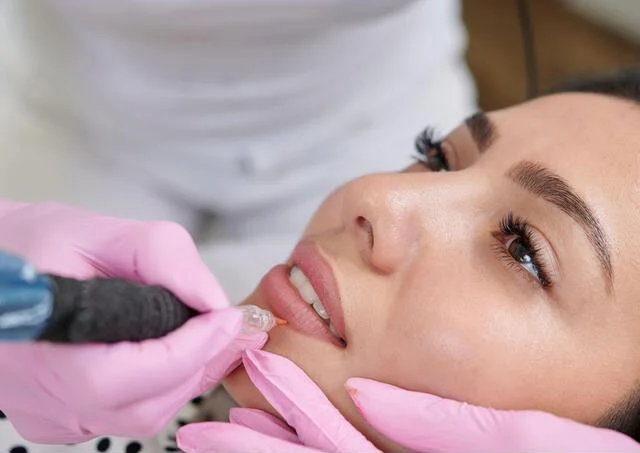 Permanent makeup mimics the look of just-applied lipstick, lip liner, eyebrow pencil, and eyeliner. It's done through a process called micropigmentation, where a PMU machine is used to inject permanent organic pigment into the skin.
Microblading is basically a semi-permanent way by whichyou can enhance the appearance of your eyebrows. A pigment is inserted into your skin with precise, fine, short and inch-perfect strokes that will look the same as your hair. It is done by using a hand-shaped tool that contains blade-like small needles.

We believe in modernization and utilizing the latest technology for greater benefits. That's why we use computerized machine and nano needles to apply permanent makeup with high precision.
When makeup is applied not by a person but only by a highly trained professional it makes such a big difference and you will fall in love with yourself.
---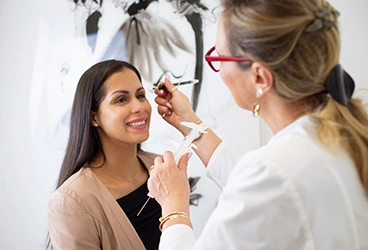 Permanent eyebrows currently enjoy a massive cultural moment. There is no doubt that this popular trend focuses on natural beauty. It gives entitlement to those who already have lavish eyebrows.

Permanent makeup is a great solution for women whose eyebrows are thin, sparse, or over-plucked. An experienced and professional permanent makeup and microblading artist is capable of creating beautiful, natural and stunning eyebrows. The highly effective permanent eyebrow makeup services will be completed using microblading, ombré,3D hair stroke, or powder effect techniques. Read more


---
Eyes are considered the windows to the soul, believed by many. Many women wear eyeliner in order to enhance the natural beauty of their eyes.

Whether you're looking fordramatic eyes or a subtle top lash definition 24/7, we can help you to get your desired look. With our consistency, effectiveness and results, we have earned the reputation of a top-notch permanent eyeliner makeup service in Atlanta. Contact us today to schedule a consultation. Read more


---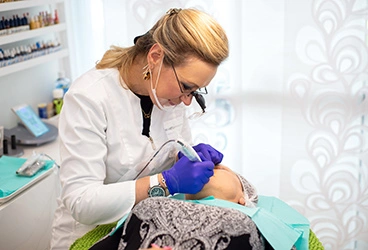 If you would like to have fuller and more defined lips, then permanent makeup is for you. At Elite Institute of Micropigmentation, our well-known permanent makeup artists will be happy to fabricatelipstick or naturally tinted looks. Permanent makeup lips will enhance you to achieve the best look of your lifetime.

We deliver the best permanent lip makeup services in Atlanta.

Also, a permanent lip color treatment can make your lips look more symmetrical. Light lip blush is a great solution to enhance and brighten your lips in a perfect and subtle way. It is ideal for those who prefer to move around with a natural look. Read more


---
Appointment Policy
Please book your appointment in advance. A deposit of $100.00 will be required at the time of your booking.
---
Cancelation Policy
Clients' hassle-free experience and convenience are our priorities. As per the cancellation policy, we need 48 business hours of cancellation notice so that we can cancel or reschedule your appointment. If you are unable to give us thatspecific time like the 48 hours notice (Sunday and Monday are not included) then you will lose your deposit on the cancellation process. For your next booking, an additional deposit amount will be required to reserve a new appointment.
Hours of Operation:
Tuesday:
10:00 am – 6:00 pm
Wednesday:
10:00 am – 6:00 pm
Thursday:
10:00 am – 6:00 pm
Friday:
10:00 am – 6:00 pm
Saturday:
10:00 am – 5:00 pm
---
Our Prices
---
Permanent Makeup Results
---
Forms of Payment
We accept all major credit cards. We DO NOT accept American Express or personal checks.
Permanent Makeup FAQs
What exactly is permanent makeup?
Permanent makeup, otherwise called cosmetic tattooing, micropigmentation, microblading and intradermal pigmentation is an advanced cosmetic technique that involves the usage of a pen filled with FDA-approved natural pigments to achieve a long-lasting pigmentation of the skin's dermis layer. The process utilizes an exceptionally fine needle that gently implements pigments under the skin. Learn more about the procedure here - Permanent Makeup Procedure
Is permanent makeup safe?
Yes, it's totally safe. The pigments utilized in the process are in fact, inserted into the skin gently, and they remain with you for a long time to come. These natural pigments have been approved by FDA for cosmetic usage. This means that you don't need to worry about the colors resulting in any kind of discoloration or allergic reaction to the skin. The most vital thing that you should remember before having permanent makeup done is to patch test with the same ink that will be used for the final procedure. This will provide you with a sound idea about what permanent makeup will appear on your skin and whether or not it will cause any allergic reaction.
What are permanent cosmetics?
Permanents cosmetics refers to cosmetic tattooing procedure which resembles traditional cosmetics. The biggest benefit of permanent makeup is that it can make you look younger & better by hiding your imperfections and enhancing your perfect features. It can most certainly be used by individuals having vision problems, physical handicaps, allergic reactions due to preservatives in traditional makeup, hair loss, facial scars, or asymmetries and those who wish to save time on makeup application can all profit from permanent cosmetics. You can choose from a variety of service options including eyelash enhancement, lip liner, eyeliner, hair simulation, scar camouflage, and skin repigmentation.
Is it painful?
Though pain tolerance usually differs from one individual to another, topical anesthetics are utilized during every session to ensure maximal comfort. Most of our clients experience practically little to no pain and remain quite relaxed. There can be some sensitivity that appears right after the effect of the anesthetic wears off, followed by minimal swelling and tenderness.
How permanent is it?
The durability of permanent makeup results is substantial. In general, the effects of permanent makeup can remain for 1½ to 3 years for every treatment, which means that you can wake up feeling confident and ready every day for that period of time!
How many touch-ups are required for desired results?
Usually, you will require 1-2 touch-ups for getting the results you want once the procedure is complete. After that, it is advised to refresh your permanent makeup once every year to keep it looking new.