Best Eyebrow Microblading Clinic
in Atlanta
Enhance Your Appearance With Perfect Eyebrows
Unleash your true beauty by adding the best and permanent eyebrow microblading services in Atlanta, GA. Elite Institute of Micropigmentation is a renowned eyebrow microblading clinic where magical transformation happens. If you have felt that your eyebrows are not perfect and you always feel a bit down whenever it comes to appearing at parties or events then these days are over. With the help of the best microblading eyebrow treatment, you can enjoy your appearance with natural-looking and long-lasting eyebrows.
You can always give us a call to find out what will be the best for you. (678) 818-6001
---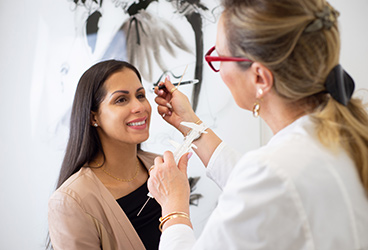 Eyebrow Microblading At
Elite Institute of Micropigmentation
Whenever it comes to finding body part solutions especially eyes, people tend to rely on specialists. Having vast experience, profound expertise and on-field success, Elite Institute of Micropigmentation delivers elite eyebrow microblading services. Our eyebrow tattoo treatments will fuller your eyebrows, raise the arches to enhance your appearance of eyes. Every person carries different characteristics so the treatment will be unique as well. Our procedure includes microblading, eyebrow tattoo, nano hairstroke, ombre brows or powder brows, combination brows and some other relevant methods. Our professional touch will enhance your eyebrow appearance to complement your facial structure.

Flaunt your natural beauty and start your day with appealing permanent eyebrows.
---
How We Deliver
The Best Eyebrow Microblading Services
To make your eyebrow tattoo procedure a success, we always follow a thorough strategy step by step. We have earned the reputation as one of the best permanent eyebrows makeup services in Atlanta because of our highlyskilled artists and effective results.

Here is the step by step procedure we follow –
Schedule Your Consultation
At first, you have to give us a call and schedule your consultation. During the process, our eyebrow microblading and makeup expert will discuss what will be the best option for you. It will be decided based on what skin type you have. There will be sessions. The number of sessions will be decided on how well your skin rehabilitates with the pigments during the process of healing.
Visit On Your Date
Our eyebrow microblading and makeup specialists will create the best eyebrow option for you that will be unique and ideal for your facial features, head shapes, brow lines and others. Once our team finalizes the best and perfect eyebrow design for you, we will start proceeding with the highest care, prime focus and the finest precision.
Feel Confident Now
After we are finished, you will have outstanding eyebrows. As a professional name in permanent eyebrow makeup services, we always deliver the best aftercare guide and full compliance to extract the best outcome.
Want to know what will be your best solution? Find out with Elite Institute of Micropigmentation today.
---
Appointment Policy
Please book your appointment in advance. A deposit of $100.00 will be required at the time of your booking.
---
Cancelation Policy
Clients' hassle-free experience and convenience are our priorities. As per the cancellation policy, we need 48 business hours of cancellation notice so that we can cancel or reschedule your appointment. If you are unable to give us thatspecific time like the 48 hours notice (Sunday and Monday are not included) then you will lose your deposit on the cancellation process. For your next booking, an additional deposit amount will be required to reserve a new appointment.
Hours of Operation:
Tuesday:
10:00 am – 6:00 pm
Wednesday:
10:00 am – 6:00 pm
Thursday:
10:00 am – 6:00 pm
Friday:
10:00 am – 6:00 pm
Saturday:
10:00 am – 5:00 pm
---
Our Prices
---
Permanent Makeup Results
---
Forms of Payment
We accept all major credit cards. We DO NOT accept American Express or personal checks.