FAQ about
Permanent Makeup
What exactly is permanent makeup?
Permanent makeup is a safe, natural alternative to a regular makeup that most women apply every day. Permanent cosmetics is a great solution for those who would like to have natural looking makeup that lasts for years. Procedures include eyebrows, eyeliner and lips; advance procedures include scar camouflage and areola re-pigmentation.
Is permanent makeup safe?
Yes, it is safe when you work with a trained and licensed technician. Remember, it's your responsibility to make sure you choose a professional who is licensed and insured to practice in your state.
Is it painful?
Before the procedure you'll receive a topical anesthetic that will help you to feel comfortable during the procedure. You might feel a tickling sensation while the pigment is being applied.
Does it look fake?
Not at all. Permanent makeup provides a more natural look than a traditional makeup. Moreover, no one will know you have a permanent makeup unless you tell them.
What is the healing process?
During the healing process, skin will form scabs and appear darker or brighter the first week after the procedure. Taking care of scabs will be a number one priority since they protect pigment while the skin is healing. Following aftercare instructions during the healing process is a must.
How should I choose my makeup technician?
Research a potential technician, evaluate their portfolio and read real client reviews. Ask technicians where they were trained and what certifications they have. Scheduling a consultation with your potential artist is highly recommended.
How long will my appointment take?
The initial appointment generally takes two hours. Follow-up (2nd session) appointment takes about an hour and a half.
Do I have options when it comes to makeup colors?
Yes. You can choose from a wide range of colors that can be lightened or darkened according to your preferences. If you're unsure about the color you'd like to use, talk with your technician. Learning how to choose the right colors is an integral part of any aesthetic professional training.
I have sensitive eyes. Will permanent makeup work for me?
Many women with sensitive eyes choose permanent makeup as an alternate to the eye irritation caused by traditional cosmetics. If you have very sensitive skin, an initial patch test may be necessary.
What are my options if I don't like the results?
Corrections can be pricey. Remember, it's your responsibility to make sure you choose a professional who is licensed and insured to practice in your state.
Does permanent makeup last a lifetime?
Permanent makeup is actually a semi-permanent makeup. Pigments fade overtime due to various factors such as lifestyle, body metabolism, sun exposure, skin type, age, etc. If pigments are not refreshed, they will fade completely.
Is permanent makeup/microblading right for you?
It is very important to review this list prior to booking any Permanent Makeup/Microblading procedure. Clients who have any of the listed below contraindications are NOT candidates for Permanent Makeup/Microblading procedure.

- Diabetes Mellitus
- Glaucoma
- Cancer, Leukemia, Sarcomas
- Bleeding Disorders ie. Hemophilia A or B, Von Willebrand Disease, Sickle Cell
- Vitiligo
- Psoriasis, Eczema
- Taking Retin-A, Differin, Tazorac, Isotretinoin
- Active Herpes Outbreak
- HIV, AIDS
- Hepatitis
- Pregnant or Nursing
- Taking Anti-Coagulation Medications
- Epilepsy
- Keloids or Hypertrophic Scarring
- Severe Acne In and Around Eyebrows
- Severe Allergies
- Used Accutane in the past year
- Allergic To Anesthetic (Lidocaine)
What Is Permanent
Makeup?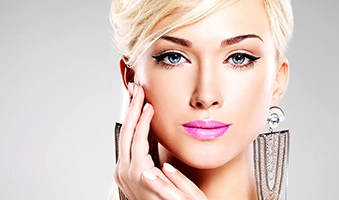 Imagine you wake up in the morning and have a fresh face full of vibrant color. Imagine you never feel bad about your thin eyebrows or lips. Imagine you go camping or attend classes in the gym and you don't have to worry about your smudged makeup. Now, imagine that all that is not only possible, but it is also permanent!
Permanent makeup is perfect for people who are allergic to makeup; people with medical conditions that cause unsteady hands, such as rheumatoid arthritis or stroke which makes it difficult to apply traditional makeup; and people who have a very busy lifestyle. Permanent makeup is a great solution for those who want to look and feel their best with minimal efforts.
How Does Permanent

Makeup and Microblading Work?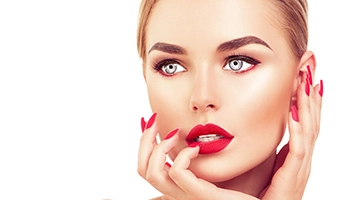 Permanent makeup is also known as micropigmentation. It is an implementation of pigment in the upper layer of the dermis using a permanent makeup machine or a microblading hand tool. Most clients have little to no pain during the procedure due to pre-numbing & continually numbing during the procedure.
The artists can draw a permanent eyeliner that won't disappear when you sweat or swim, or natural looking eyebrows. Permanent makeup on lips creates an illusion of fuller, younger looking lips with more defined & symmetrical contour.
Permanent makeup is an amazing solution for those who has oily skin that causes traditional makeup to smudge and wear off.
People who suffer from alopecia would definitely benefit from scalp micropigmentation procedure.