High-quality Lips Permanent Makeup
in Atlanta, GA
Make Your Lips More Appealing With Permanent Lip Tattoo
Congratulations, now you can live up to two years without applying lipstick. All thanks to permanent lipstick services. As modern-day inventions are progressing rapidly, human beings are getting advanced as well. Having permanent lip makeup is one of the modern day's attractive contributions. With it, you will never have to worry about your lip color getting faded. And you don't have to think about smearing lipstick or reapplying your tint.

Natural-looking lips with subtle flush pink are the desire of every girl. At Elite Institute of Micropigmentation, you can make your desire becomes true like magic. Our wonderful professional lips permanent makeup will let you roam freely with stunning naturally plumped lips.
You can always give us a call to book your appointment. (678) 818-6001
---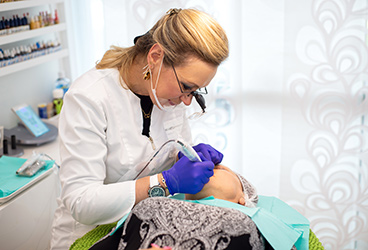 What Are Permanent Lips And
Why It's So Beneficial
The aging process is normal for every human being and we can't control it. Lips lose color and volume with time. The natural lip lines lose their identity and it makes the lips flat and thin. Permanent lip makeup can restore your lips to natural and youthful like before. The best part is – it remains fade-free and smudge-free throughout the day.

Full lip tattoo or permanent lip makeup can drastically enhance the shape and appearance. Implanting gorgeous lip color delivers a fuller leap appearance that is entirely smudge-proof. If your lips are uneven and you have to constantly battle with the lip liners to make lips look even then the best lip permanent makeup in Atlanta by Elite Institute of Micropigmentation can be your savior.

You can achieve even and symmetrical lips with our well-known customized micropigmentation tattoo method. You can decide your own color as well. It always ensures a natural result by enhancing your entire facial beauty.

We deliver separate customized approaches for the best solutions.
---
Restore Your Lips
Today
Through excellent permanent lip makeup, we can create an entirely balancedand harmonious face. It is the best and perfect way to restore your lips that are showing symptoms of aging. We pick a permanent color from plenty of wonderful pigments to achieve a natural, gorgeous or soft lip personalized especially for you.

Once we are completed, you will be amazed to see your facial beauty!
So, what's stopping you anymore? Give us a call and get started.
---
Appointment Policy
Please book your appointment in advance. A deposit of $100.00 will be required at the time of your booking.
---
Cancelation Policy
Clients' hassle-free experience and convenience are our priorities. As per the cancellation policy, we need 48 business hours of cancellation notice so that we can cancel or reschedule your appointment. If you are unable to give us thatspecific time like the 48 hours notice (Sunday and Monday are not included) then you will lose your deposit on the cancellation process. For your next booking, an additional deposit amount will be required to reserve a new appointment.
Hours of Operation:
Tuesday:
10:00 am – 6:00 pm
Wednesday:
10:00 am – 6:00 pm
Thursday:
10:00 am – 6:00 pm
Friday:
10:00 am – 6:00 pm
Saturday:
10:00 am – 5:00 pm
---
Our Prices
---
Permanent Makeup Results
---
Forms of Payment
We accept all major credit cards. We DO NOT accept American Express or personal checks.