Top 5 Benefits of Hair Tattoo Treatment: Pros of Hair Tattoo
By Milla Rosen, December 22, 2021
Does your hair say a lot about you?
If it's yes then you don't have to worry about it anymore. In fact, it's a pretty common phenomenon worldwide. However, the key is to find the right solution for your hair.
Hair is an integral part of human appearance that plays a crucial role in communication by reflecting your personality and style. If you are experiencing hair loss, you will feel that you are losing a part of yourself. Worse, it may leave you feeling useless with zero confidence.
Here come hair tattoos as your savior. It is a proven treatment that helps people regain their lost hair in a natural way. Hair tattoos are considered as permanent hair loss solutions all around the world.
Here are the top 5 benefits of hair tattoo treatment –
1. It is Not Fake and The Treatment does not make False Claims
You may have searched a lot on the internet and found out claims like growing hair in days or weeks or months. Well, most of these claims are false in fact, all of these claims are fake. And those powders, creams, gels, ointments, capsules don't work at all.
Hair tattoo treatment is the best hair loss solution for everyone, both men and women. With a hair tattoo, you will get exactly what you see. The thorough procedure requires consultation and detailed discussion with your expert. It will be decided first, how your hair scalp will look after the treatment.
With the treatment, you can expect to get a short stubble hair look or the density treatment will allow you to keep your long hair.
2. Totally Safe Procedure
Hair tattoo treatment is a completely safe procedure because of its execution. It doesn't involve any chemical, as a result, the risks of infections get nullified immediately. It's also the reason why hair tattoo treatment doesn't have any side effects. As tattooing requires minimal invasion so, a low risk of infection may arise but it will be minimally effective.
3. It Helps To Restore Your Confidence
If you think these two above benefits are enough to make a decision then here comes the greatest advantage of hair tattooing. It's true and very much real that men and women lose confidence with hair loss. But after the successful hair tattoo treatment, you can restore your full confidence again. Tattooing on hair scalp doesn't help new hair growth but rather it creates fuller hair-like psychological effects that fulfill the void of hair loss. As a result, your appearance becomes attractive.
4. Minimal Recovery Time
After hair tattooing is finished, you will get to see visible effects. In fact, people start living their normal life after a few days of the procedure. That is why hair tattoo is known as one of the best procedures with minimal recovery time. On the other hand, treatments like invasive hair restoration require several weeks to show results and several months for the full-fledged effect.
5. Hair Tattooing Requires Little Maintenance
Hair tattoo will slightly fade with time like any tattoo. But it will not happen pretty quick or extensively fast that you will be requiring frequent touch-ups. It is ideal to opt for touchups after a few years. You don't have to worry about extra maintenance of your scalp. At Elite Institute of Micropigmentation, you will require touchups only when it's needed.
Schedule A Consultation With Elite Institute of Micropigmentation
If you are in the hunt for the best hair tattoo treatment that delivers what it claims and won't leave you regretting the decision, get in touch with the Elite Institute of Micropigmentation. We are the best hair tattoo clinic in Atlanta. Our expert team will guide you with every detail and the best solution.
We also specialize in eyebrow microblading and scalp micropigmentation for both men and women.
To learn more about our services and your best solution, schedule a free consultation with us.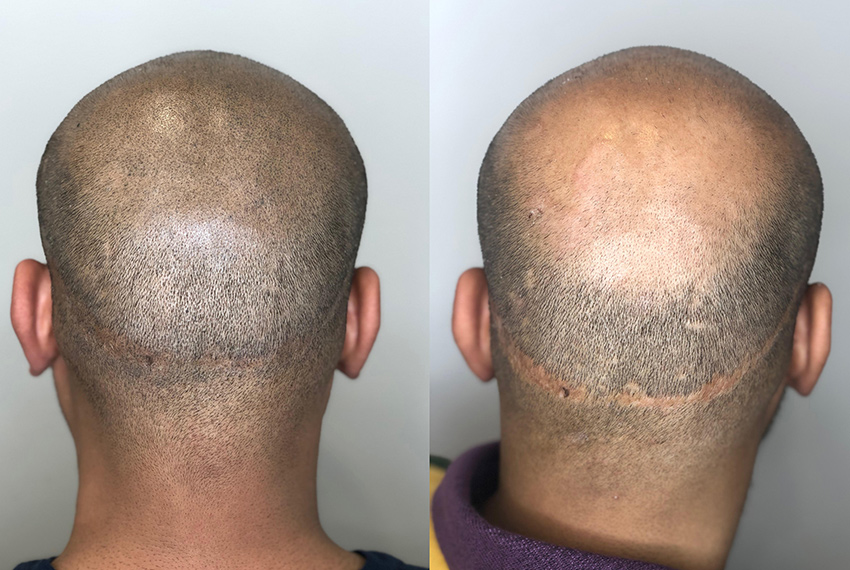 ---
Hours of Operation:
Tuesday:
10:00 am – 6:00 pm
Wednesday:
10:00 am – 6:00 pm
Thursday:
10:00 am – 6:00 pm
Friday:
10:00 am – 6:00 pm
Saturday:
10:00 am – 5:00 pm
---
Our Prices
---
Forms of Payment
We accept all major credit cards. We DO NOT accept American Express or personal checks.