Things To Know Before Starting Scalp Micropigmentation
By Milla Rosen, October 16, 2022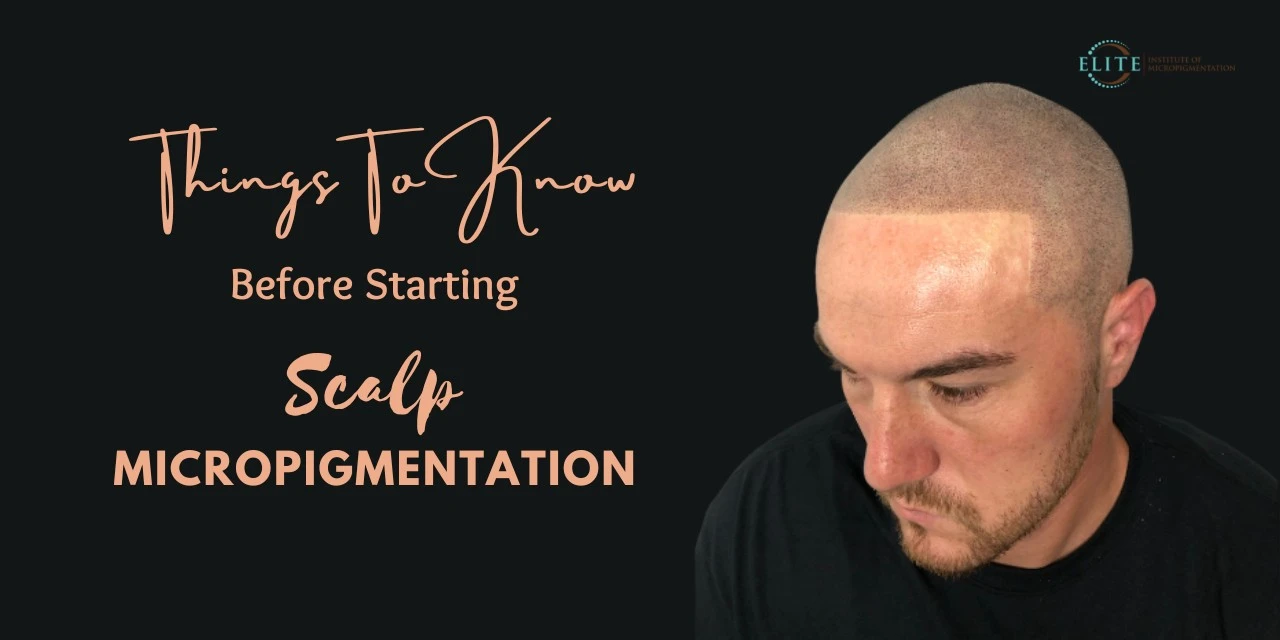 Losing your hair can be alarming. For a long time, for people who have faced challenges dealing with hair loss and baldness, scalp micropigmentation can be a savior. In especially men or women whose baldness appears in patches, and affects their overall appearance, scalp micropigmentation can help to get a natural look. It is a non-surgical procedure and a great choice in-clinic treatment. Scalp micropigmentation with male pattern baldness can create the illusion of stubble and a buzzed fuller hair look.
Let us understand more in-depth what SMP does and how to benefit from it.
What is Scalp Micropigmentation?
Scalp Micropigmentation (SMP) is a cosmetic tattoo procedure. In this procedure, a natural pigment is used on the epidermal layer of the scalp through a needle, just like doing a tattoo. This treatment helps to build density and replicate the appearance of natural hair follicles. This treatment helps in masking the surface area of the scalp where hair loss has already occurred. Hairline restoration is the most essential part of scalp micropigmentation as it constructs the perfect balance for the face. It aids to build a new hairline. Micro-pigmentation is a widespread cosmetic procedure for men and women.
Micropigmentation is also widely used to improve the shape of eyebrows to enhance the definition and the line. The same process is applied to the scalp as a hair loss solution for years to help rejuvenate confidence and self-esteem.
How does SMP work?
Scalp Micro Pigmentation (SMP) is a moderately painless yet permanent solution for hair restoration. It works by adding pigmentation to the scalp to replicate a naturally shaved head. The process itself needs a highly skilled technician or cosmetic pigmentation specialist. Also, if it's not done right by an experienced artist, it can ruin the results. It is completely done by an experienced artist only and it takes a long time to master this skill. If the hairline is done by an inexperienced artist it can look unnatural. Here, the equipment and method used are different from cosmetic tattoos. SMP is done to replicate the look of thousands of hair follicles on a freshly shaved head. When done perfectly, SMP looks exceptionally natural and realistic.
Who is a candidate for scalp micropigmentation for?
Scalp micropigmentation is a type of micropigmentation also known as permanent makeup. The treatment can make the appearance of thicker and fuller hair in people who have:
Alopecia areata is an autoimmune disease.
Chemotherapy-related hair loss
Hair loss in women
Hormonal conditions that cause hair loss, like PCOS
Male pattern baldness, baldness at the crown of the head, or even reduced hairline
Thin hair or very less hair on the scalp
African-American ladies – who experience hair loss due to hairstyle selections like braids, hair extensions, etc.
It works for people who had a hair transplant but are still not satisfied with their hairline results.
Who isn't a candidate for Scalp Micropigmentation?
Certain diseases and infections make cosmetic tattooing unsafe. If you suffer from any of the conditions listed, you cannot experience the treatment.
If you have diabetes, need to consult your doctor
If you have bleeding disorders
If you take blood-thinning medications
Pregnant or nursing women
If you have a record of keloids
If you are suffering from viral infections or diseases
If going through chemotherapy
Psoriasis near the scalp area
How to find the right SMP practitioner?
Are you looking for the best SMP practitioner? Do remember, before you decide on an SMP practitioner, it's essential to do your homework. Make sure to visit and talk to the practitioner at the office where the service will be performed.
These are the most crucial and essential points high-quality SMP treatment centers should have:
certification of SMP training
body art practitioner license on display
bloodborne pathogens certification
county health permit
a clean and sterile environment
packaged needles
barrier protection during treatment such as nitrile gloves, mask, barrier tape, and guards on SMP treatment device
What happens before scalp micropigmentation?
Before scalp micropigmentation procedure, things you need to follow:
Wash your hair and scalp before the procedure.
When you arrive, the doctor marks the treatment area
If you're bald, then the expert design a hairline based on your facial structure
Select pigments that match your hair color
Numbing medicine is applied to the scalp to make you more relaxed.
The needles used in the treatment are more delicate and smaller than tattoo needles. So, it is less painful than getting a tattoo.
What happens during scalp micropigmentation?
During the treatment, your provider uses a needle to deposit medical-grade pigment on the selected areas of the scalp. The dots vary in size, angle, and depth to deliver a natural hairlike appearance. The treatment takes five hours, depending on the size of the treatment area. Most people need three sittings. Each treatment adds more pigment to make the look of thick hair.
What happens after scalp micropigmentation?
This is not a surgical procedure so you can go back to daily life quickly. There are very few side effects of scalp micropigmentation, such as some redness on your scalp that lasts several hours. You need to wear a hat or scarf to cover the scalp, to avoid dust particles.
What are the benefits of scalp micropigmentation?
The benefits of scalp micropigmentation are it is compared to hair transplantation surgery. However, it may have multiple benefits such as:
Less invasive procedure
Less pain and provides a natural hairline
Lower cost compared to hair transplant
No downtime
What are the risks or difficulties of this procedure?
The biggest risk of scalp micropigmentation is if you get treatment from an unlicensed or inexperienced practitioner who may not take the necessary precautions. This is an art and it takes years of practice to give good results.
SMP risks include:
You may get an allergic reaction due to the cosmetic pigments.
You may get an infection from unsterilized needles.
You may experience an Unnatural or undesirable appearance after treatment.
To avoid these risks:
Select a licensed scalp micropigmentation technician or a doctor who has a good hand in creating a perfect hairline that looks natural.
Check for before and after scalp micropigmentation photos of their work.
If you have allergies, consult them with your technician before the procedure.
How long does it take to see SMP results?
The results are instant and immediate. But for optimum results, around 2-3 sessions will be required with a practitioner. Each session is carried out within a sterile, comfortable environment. The pigment color may seem darker until it has had time to settle. Later wash off the excess pigment, for approximately 5-7 days.
How long does scalp micropigmentation last?
With adequate aftercare, scalp micropigmentation can last years. However, like any form of tattoo, touch-ups may be required to ensure the results are preserved. Minimize exposure to direct sunlight to your scalp to improve the longevity of the results.
But is scalp micropigmentation safe and secure?
The risks are similar to getting a tattoo. Since dermatologists don't usually perform scalp micropigmentation, it's important to select a qualified cosmetic artist. It's safe when you get your treatment done by a licensed practitioner.
You can integrate the procedure with topical scalp treatments and oral medications like finasteride or minoxidil. Many common hair loss treatments are safe to use alongside scalp micropigmentation. But it's always advisable to talk to your doctor and then start with the treatment.
Can micropigmentation work if you already have hair?
Yes, it works. There is a range of options relying on the pattern of hair loss. Those with a thinning head of hair can have follicles tattooed onto areas where there is still hair growth to make the appearance of lush volume. Practitioners can also just zero in on the hairline and enhance how strands frame the face.
How much does scalp micropigmentation cost?
Scalp micropigmentation is a one-size-fits-all procedure. The pricing is between $800 to $5,000, depending on the size of the area. If this treatment sounds good, then start your hair restoration journey with Elite Institute of Micropigmentation today.
Let's Rewind
Scalp micro pigmentation help to create a perfect face-framing hairline that you always dream of. To get your dream look, selecting the right clinic can be an absolute minefield when every provider proclaims to be the best. We at Elite Institute of Micropigmentation believe in proving genuine and guaranteeing results. However, just don't take our words, instead, listen to our clients who talk about their results.
Take a look at our client's scalp micropigmentation story to get real-time feedback. Do visit our website and study reviews page and check on before & after pictures so you can take a closer look at what we do, and how we do it. Eventually, it's important to understand that SMP is an investment. If done correctly by a qualified and trained artist, SMP can be indeed a confidence-boosting procedure with no downtime.
So, no more waiting, contact us to revamp your look this autumn.
---
Hours of Operation:
Tuesday:
10:00 am – 6:00 pm
Wednesday:
10:00 am – 6:00 pm
Thursday:
10:00 am – 6:00 pm
Friday:
10:00 am – 6:00 pm
Saturday:
10:00 am – 5:00 pm
---
Our Prices
---
Forms of Payment
We accept all major credit cards. We DO NOT accept American Express or personal checks.