What Is The Difference Between Powder Brows & Microblading?
By Milla Rosen, July 23, 2022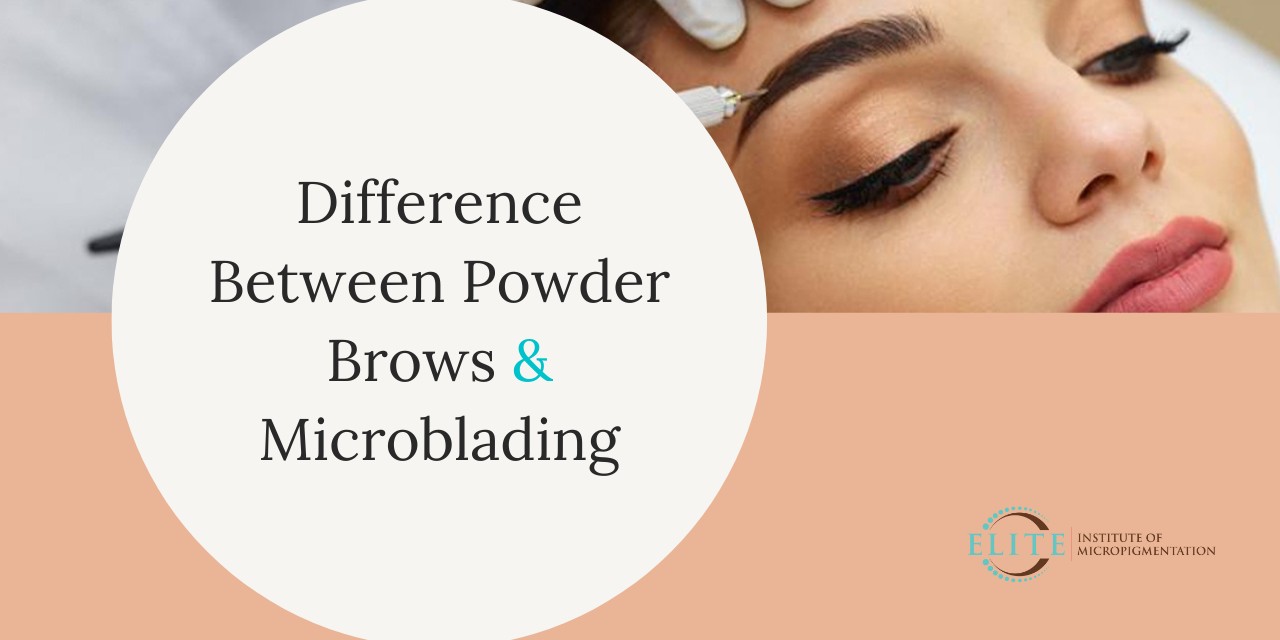 If you are scratching your head trying to figure out the actual difference between powder brows and microblading – we have you covered!
Eyebrows are an important aspect of a woman's face. Basically, they frame the entire face and elevate other facial features. And if you're planning to undergo an eyebrow beautification process, understanding the difference between the processes will help you determine which procedure is right for you.
Both powder eyebrows and microblading are different forms of cosmetic tattooing and provide permanent solutions to sparse brows. In case you didn't know, microblading and powder eyebrows have a lot in common, with the exception of certain distinctions.
Therefore to clean the cloud of confusion, we have put together this blog so that you can properly understand the difference between powder brows and microblading – hoping it will be of great advantage for you.
Before we jump into the differences right away, let's start with the basics.
What Causes Sparse Eyebrows?
Sparse eyebrows are a major problem for men and women alike. The irony of the whole situation is that women spend so much time plucking, tweezing, and threading their eyebrows when they are young, only to bemoan the fact that the eyebrows get sparse as they grow older.
There are several reasons behind the cause of sparse eyebrows, and these include:
Genetics
Hormonal changes
Nutrition deficiencies
Years of plucking and tweezing
Aging of hair follicles
One way to correct it is by using different cosmetics like eyebrow pencils, gel, and powder, but they are short-term solutions. Also, it isn't easy to match the color of the eyebrows perfectly – to make them look natural and beautiful. Additionally, it consumes a lot of time to fill the eyebrows correctly without going overboard. This is followed by the frustration of getting the right eyebrow shape on each side.
The best way to ditch these problems is to go for cosmetic eyebrow beautification, which is a permanent solution to your daily eyebrow hassle.
What Is Microblading?
Microblading is quite a common term that you will often hear thrown here and there when talking about filling eyebrows.
In this process, the technician uses a hand tool with a needle to create realistic-looking hair strokes - giving the illusion of fuller eyebrows.
Before you go for microblading treatment, you need to decide what type of look you are trying to achieve. Are you trying to fill up your brows? Or do you want to enhance your current brows?
Once you are sure about it, the next step is to determine the pigment that matches your hair color, current eyebrows, and skin tone. Once you are settled on the pigment, the next step is applying the numbing cream to the skin before starting the process. This step helps minimize the pain, and also the skin is sanitized at the same time- ensuring the practice is undertaken safely and hygienically.
After this, the actual process of microblading initiates. The technician applies hand-drawn hair strokes meticulously into the epidermal layer of the skin - using a hand tool and pigment. The technician dips the needle onto the pigment and applies it to the skin delicately as individual hair strokes. The needle doesn't penetrate the skin but rather creates small scratches that transfer the ink onto the skin.
The idea of microblading revolves around mimicking realistic hair-like strokes that are drawn to look like natural eyebrows.
The whole procedure is completed within thirty to forty-five minutes. Then, a calming cream helps the face heal quickly and easily. You may see some redness and soreness at first, but the skin will heal within a few days.
Powder Brows
Another way to get the appearance of fuller eyebrows is with the help of powdered eyebrows. Also known as microshading or ombre brows, this process is similar to microblading, but with added advantages. It creates a soft, natural appearance and is less intrusive.
In powdered eyebrows, instead of applying strokes to fill eyebrow hairs – the technician uses a needle to draw dashes as well as dots on the target area. The pigment is then placed on the skin, causing the hair to remain longer in place than scratches of microblading.
The method of ombre powder brows creates the illusion of fullness and provides an excellent definition to your brows. Initially, the eyebrows could appear dark, but then they fade into a soft and subtle appearance over time.
Powder Brows Vs. Microblading: Which One Is Right For You?
Microblading looks great on individuals who want their eyebrows filled in or who want to create new brows where hair has been lost. Women who want to achieve a natural look must go for microblading. Few points will determine how long microblading lasts, including the skin type (dry versus oily), facial products you use, sun exposure, and lifestyle.
If you want to add more volume to your eyebrows and some shade, powder brows will get precisely what you're looking for. Some people prefer this technique because it's less painful and isn't causing any discomfort.
What are you waiting for? Get in touch with the professional team at Elite Institute of Micropigmentation and get your eyebrow beautification done right away! Our micropigmentation artist has been operating in the field for more than 15 years, with multiple diplomas and certifications. We are an official Platinum Member of the American Academy of Micropigmentation. We are the first permanent makeup and micropigmentation clinic in Georgia.
---
Hours of Operation:
Tuesday:
10:00 am – 6:00 pm
Wednesday:
10:00 am – 6:00 pm
Thursday:
10:00 am – 6:00 pm
Friday:
10:00 am – 6:00 pm
Saturday:
10:00 am – 5:00 pm
---
Our Prices
---
Forms of Payment
We accept all major credit cards. We DO NOT accept American Express or personal checks.